First Christian Church of Bryan/College Station
Bryan was first platted as a town in 1860 and was formally incorporated as the City of Bryan in 1871. The First Christian Church was organized in Bryan in 1866 and early meetings were held in local businesses and private homes. Colonel J.S. Proctor and Judge Spencer Ford were prominent in the organization of the First Christian Church and in the civic life of Bryan during this time. The first sanctuary was built in 1868 on the corner of 27th and Dallas Streets, now Texas Avenue. The building was constructed with red brick and featured a steeple and bell but was torn down and replaced with a new building in 1907. However, in December 1925, the church and all records were destroyed by a fire. The congregation held services in the Masonic Lodge building until the new church was completed in 1928.
In the aftermath of the attack on Pearl Harbor in December 1941, Bryan and College Station saw a rise in military personnel. With the end of WWII, the area continued to grow and congregants soon realized the need for expansion. The church began acquiring land on Ennis Street, with just over two acres of land by 1962. The new structure on Ennis Street was dedicated in March 1961 with expansions made in 1974 and 2009. Around this time, the church formally changed its name from First Christian Church of Bryan to First Christian Church of Bryan/College Station. Over the years, the church has been involved with many public and church projects and programs, including youth and community outreach, disaster relief, hospice, mission work and more. As one of the first religious organizations in the town of Bryan, the First Christian Church's heritage of service continues into the 21st century.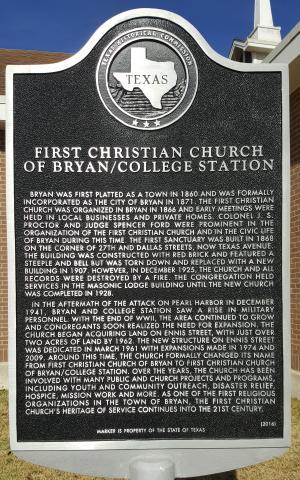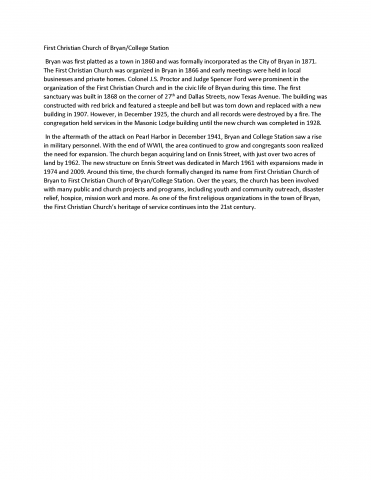 Narrative/Supportive Research